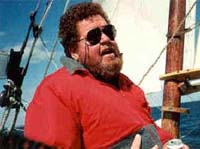 Richard J. Dillon enjoyed sailing. He was very much a part of the Mudheads and its growth. He was a good friend who helped immensely. Richard always reflected the "proper attitude" fellowship, pitching in, and most importantly, enjoying the moment. When things start to become serious. . . . it may be a good time to stop and remember what Richard was all about. It may help to put things into their proper perspective. . . . the proper attitude, so to speak. Richard passed away on September 11, 1992 doing what he enjoyed the most: sailing. He was 44 years old. He is missed. This fund is dedicated to his memory.
Mudhead Dillon Fund Policy:
Mudhead members are encouraged to make use of the Mudhead Dillon Fund,
established in 1993 in memory of former Mudhead board member Richard J. Dillon. The Mudhead Dillon Fund is there to encourage, promote, and support Mudhead sailors in the regional and national US Sailing Association championships and other events. And it's a great way to get the Mudhead name out there!
Purpose:
To encourage, promote, and to support Mudhead Sailors in the regional and national US Sailing Assn Championships and other events deemed appropriate by the board of managers.
Eligibility:
Funds shall go to any Mudhead member in good standing, who has been a member for (1) year or more and who has submitted a letter requesting funds explaining the event and overall anticipated costs. If there is more than one request for one event, the Board may determine eligibility based on resume or sail off. All crew must also be or become members prior to the event.
Intention:
Based on eligibility and receipt of letter asking for support, the Mudhead Dillon Fund will pay entry fees to regional qualifiers of USSA Championship ladder events. All disbursements of the fund must be voted on by the board of managers.
MUDHEAD DILLON FUND RECIPIENTS

2022: Charlie Bergendahl
2021: Tyler Bergendahl, NHRA Regatta (Patrick Murphy, Annie Longo, Jay Greenfield)
2020: No recipients
2019: Dave Nickerson, Moise Solomon, Andy Stoddard – Hospice National Championship
2018: Scott Loweth, Bill Bruno, Tyler Bergendahl, Peter Cronin
2017: Nick Woviotis/Team Dragon – J/24 Worlds, Emily Maxwell – International Womens Keelboat Championship, Scott Loweth/Team Thunder Chicken – Hospice National Championship
2016: Mutratz, Ben Wilkinson, National Hospice Regatta (Prescott Littlefield) and Emily Maxwell (International Keel Club Racing)
2015: Mutratz
2014: Mutratz, Ben Wilkinson, Jonathan Wenderoth
2013: Mutratz, Ben Wilkinson
2012: Ben Wilkinson, Kristin Cathcart, Kyle Seniff
2011: Community Boating, US Youth Championships – OJ O'Connell
Sears Cup – OJ O'Connell, Kyle Seniff and Ben Wilkinson
2010: O.J. O'Connell (U.S. Youth Sailing Championship Regatta – San Pedro, Ca); O.J. O'Connell, Kyle Seniff, Ben Wilkinson (U.S. Junior Sailing Championships, Sears Cup Finals, Mission Bay Yacht Club, San Diego, CA)
2009: Nathan Fast , 2009 US Sailing ISAF Youth World Qualifier and US Youth Multihull Championship; Mudhead Hospice Team; Nathan Fast, U.S. Junior Triple handed Championship
2008: Nathan Fast, US Sailing National Junior Championship (Sears Cup, Chicago, Ill), New London Community Sailing, Dan Nickerson & Ben Wilkinson, British Nationals
2007: Erin Maxwell and Elizabeth Kinsolving ~ Olympic Campaign; Hospice Regatta Donation; Leukemia Cup; Henry & J.R. Maxwell Team Racing Championship
2006: Hospice Regatta Donation; Nathan Fast ~ Laser Radial Youth Worlds
• Dan Nickerson ~ Opti International
2005: Erin Maxwell ~ Olympic Campaign; Hospice Regatta Donation; Avery Field & Emery Maxwell ~ Jr Womens
2004: Erin Maxwell ~ Olympic Campaign
2003: Tim Wadlow ~ Olympics • Brandon Flack ~ Mallory Cup • Erin Maxwell ~ Olympic Campaign
2002: New London Community Boating • Sloan Devlin & Ida Lewis Newport Beach, CA, The Leiter Cup New Orleans, LA • Henry Maxwell ~ 420 Junior Olympics San Diego, CA • Jack Field ~ US Sailing Championships San Diego, CA • Hospice Regatta Donation
2001: Hospice Regatta Donation • Erin Maxwell ~ Miami Olympic Classes Regatta • Gretchen Hanna Freye ~ Junior Olympic Nationals • Blue Jay Association
2000: Hospice Regatta Donation
Sloan Devlin ~ National Junior Sailing Championships Seattle, WA
1999: Jack Field ~ California Yacht Club ~ Balboa Nat'l Pram Championship
Nick Malinowski, J. R. Maxwell & Sean Horrigan ~ Sears Cup
Whitney Connor & Elizabeth Kratzig ~ Woman's 470 Olympic Campaign
Hospice Regatta Donation
1998: Buster Kingsbury ~ Lloyd Phoenix Cup • Hospice Regatta Donation
Sloan Devlin ~ US Team ~ European Optimist Championship
Dalton Bergan, Morgan Connor & Daniel Meade ~ US Sailing Team Race Championship the Hinman Trophy
1997: Kevin & Sean Horrigan, J.R. Maxwell ~ Sears Cup
Erin Maxwell & Tammy Passano • Lexi Andrews, Carol Connor & Val Fast ~ Adams Champs,
Dave Nickerson, Dana Seniff & Mudheads ~ Lloyd Phoenix Cup
1996: Lexi Andrews ~ Adams Cup • Olympics
1995: Donald Wilkinson ~ Lloyd Phoenix • Whitney Connor ~ Olympics
1994: Carol Connor ~ Adams Cup • Morgan Connor ~ Bemis Trophy
1993: Morgan Connor ~ Sears Cup • Anne Hohenstein ~ Adams Cup